I am only hours fresh off a film set as I type this, on a shoot where the director had to bite back and beat down his tears because he was so moved by what he was seeing but needed to resist ruining the take. That about sums up what cinema means to me.
Forget the immaculate detail of Kubrick, the spectacle of Kurosawa and the sheer audacity of Lynch. At its core, cinema is and I suspect always will be to me about empathy. The ability to walk hand in hand, laugh, cry and bleed with and for another, whether they are imaginary or otherwise; to me, that's the fundamental impulse driving and illuminating great cinema and storytelling at large; the ability to care for another, how delightful a privilege that makes us all human.
It is this impulse that drove me to adore the likes of Short Term 12, Destin Daniel Cretton's wonderfully observed indie drama about childhood demons and our inability to exorcise ourselves of them, all contained within a small halfway house for troubled teens. It also pushed me to an admittedly near uncritical adulation of Peter Berg's bracingly human drama, Friday Night Lights. (Yes I am a very very maudlin person.)
I can't quite express what I might have in common with a high-schooler that lives in the fictional Dillon Texas, but that didn't quite stop (criminally overlooked) actor Zach Gilford from wringing my heart out with my tear ducts in his career best performance as QB7 Matt Saracen. (Particularly in S04E05
The Son
, watch it people, you'll thank me later.)
It of course, was the same impulse that drove me to Joshua Oppenheimer's The Act of Killing, a brave, clear eyed documentary about the blind bravado and justice's miscarriage. It would be easy to be apoplectic and claim outrage over the film's revelations but that is not a conclusion that the film seems content to rest its laurels upon. How should I begin to fathom this film and its subjects when what it expresses seems to fly so flagrantly in the face of what I hold so dear? These men, seem
ingly devoid of love and empathy and are emboldened by their lack of it, what now?
The film's greatest turn, I submit, is in its asking of that question. In the final minutes of the documentary, we see a previously brash and swaggering Anwar Congo slowly diminished and corroded by his guilt that he seemingly appears to lose even his faculty to render speech, much less seek forgiveness. His growls visceral and guttural, he transmogrified into an animal that befits the actions of his youth.
Some critics have targeted that aspect of the film, accusing Anwar Congo of deliberately conjuring up a theatre of melodrama in order to bait sympathy from naïve audiences. Perhaps, but I think the more interesting question that might be asked is -
W
hat do we do with love and forgiveness for someone who deserves neither and quite possibly can't afford either towards himself?
What moral agent has the right to forgive and absolve such a person?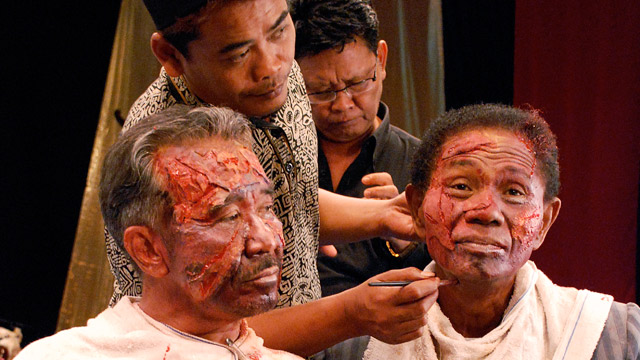 In the final moments of To Kill a Mockingbird, the prime paragon of a man, Atticus Finch speaks for his misunderstood neighbour and humanity as a whole, that "most people [are nice] when you finally meet them". What happens then, if they aren't even redeemable, let alone nice? What courtesy do we give then?
Check out which other films made our list of the

10 Most Life-Changing Southeast Asian films

.
Written by Koh Zhi Hao
Z

hi Hao is a third year student at Yale-NUS College and a budding filmmaker. He has a deep and abiding love for New York City and wants to live there one day.